We live in the Dominican Republic, but far from ther Haitian border. Ever since the earthquake in january the world has focused on our island and many confuse the Dominican Republic with Haiti.
Recently we had a chance to go to Haiti with my wife Alida's brother and cousin. Never having been before, I took the opportunity.
We knew it was going to be a very long day. What we didn't anticipate is the emotional drain we were about to experience.
Saturday morning 4:30am came early, especially seeing how we didn't get to bed until around midnight. If it hadn't been for the aroma of the excellent Dominican coffee dripping away I'd maybe have just chucked it all. But didn't. We got up, fed the cats and dogs, showered and drank as much coffee as we could.
We left home in darkness and drove down the mountain (the Cordillera Central range) to the Autopista Duarte, the main N/S road in the country. An hour later we were at Alida's brother's house in Santiago. They'd had less sleep than we had.
This will be the day's route. Orange is where we live to Santiago, purple is Santiago to Haiti:
The mission crew was Alida, mi esposa, Raphael, Alida's brother and a local pastor, George, Alida's cousin and an FBI agent from California and Director of the DREAM Project,
http://www.allaboutthedream.org
., George's esposa, Argellia, Karin, their spunky 8th grader who envisioned the DREAM Project as a 7th grader, Daniel, their young son, Robyn, Karin's Korean school pal, Dr. Carlos Alvarez, and Juan, Dr. Alvarez's assistant.
This is George: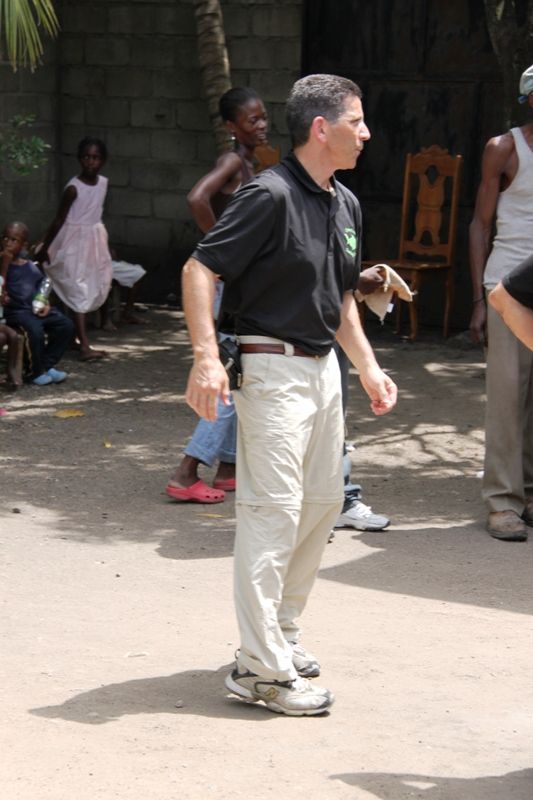 I learned I didn't understand today's work. I thought it was for engineer planning. Nope. That was done the trip before by George/Alida/Raphael's *other* cousin, Peter Olivo (
http://www.hopeforchildreninternational.com
) by his foundation; the groups work together. This was to install some water equipment, deliver a bunch of beds and build some playground equipment. The big truck, full of stuff, was already headed to Haiti. And it seems over 1000lbs of food-mainly powdered milk, 400lbs of canned meat, 300lbs. of pancake mix, syrup, and a bunch of other foods were still held up in Dominican Customs….waiting for the signature of a Jefe on vacation…for a month. These guys don't pay bribes.
We left Santiago around 6:30 as the day began to brighten, Alida, me, Robin, Karin and Daniel in my car, the others in the Dr.s car . We drove north to Navarette then northwest toward Monte Cristi, then on to cross the border in Dajabon. I'd not been in this part of the country before but I'd heard it became much dryer…and it did. Cactus and dust were common, but the landscape was still green.
Dominicans call this area the "frontier" as the population gets sparse and the weather less hospitable.
As we got 20km from the border, we stopped near a military checkpoint to pee and drink something. They look for illegal Haitians.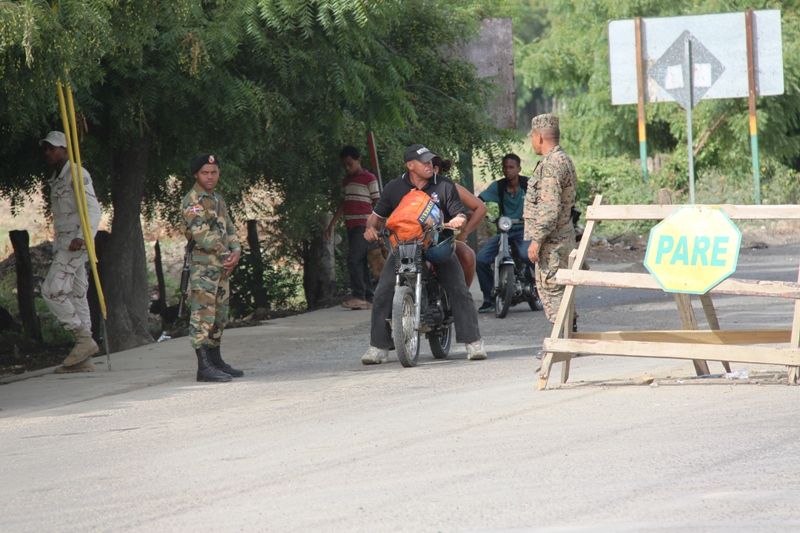 Raphael and I sharing some soda: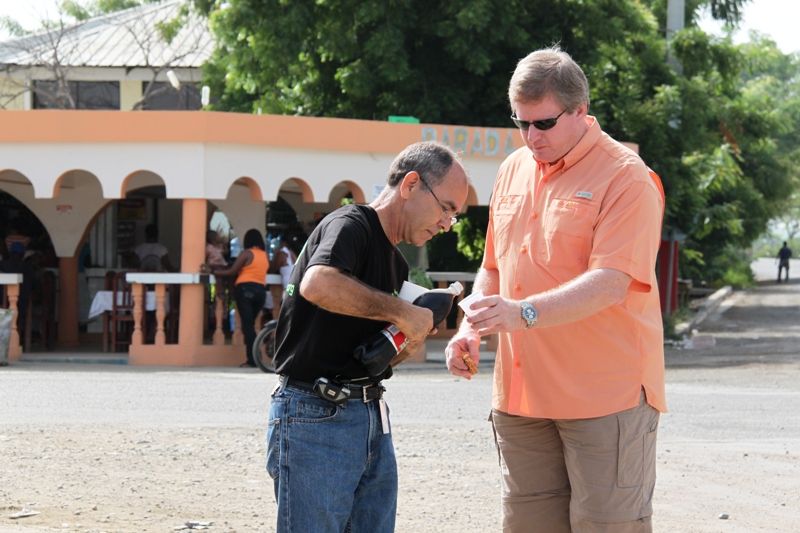 Onward into Dajabon. We stop to get papers from Customs, Alida, Raphael and George go in, I stay behind with the wimminzes and kids, taking pics. It's HOT. Our caravan, dusty from the road: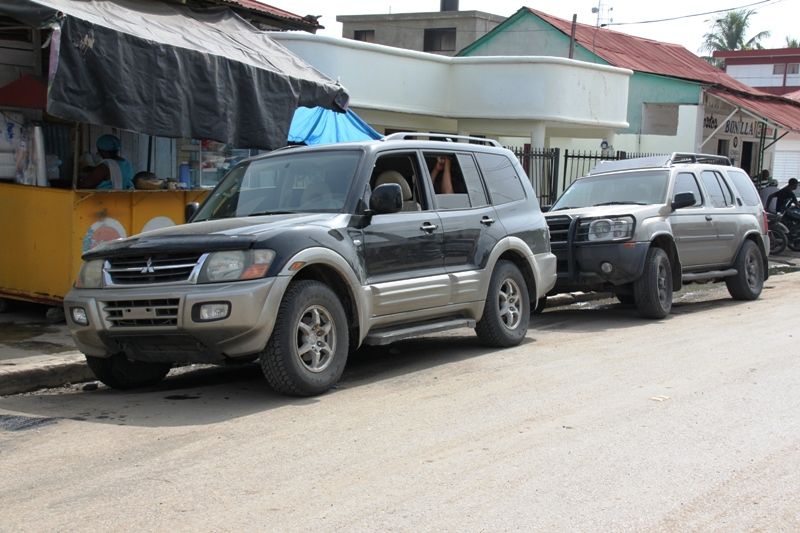 The border, just down the street: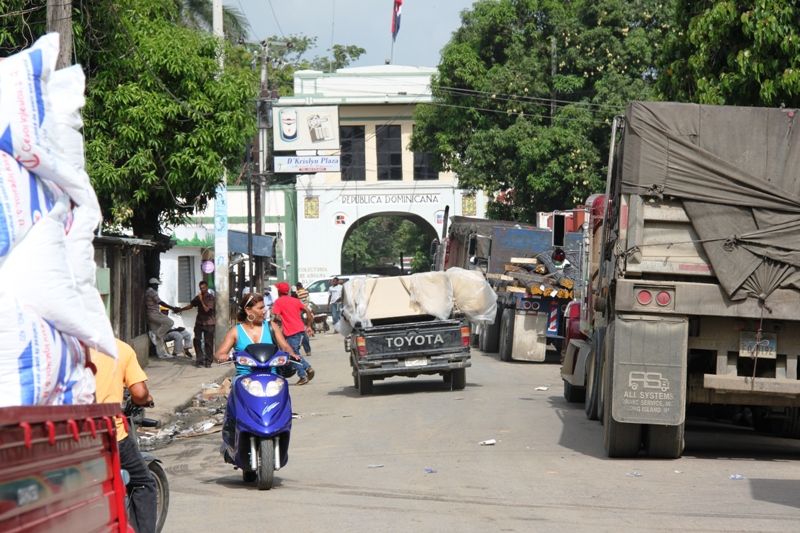 Hard working young fellow: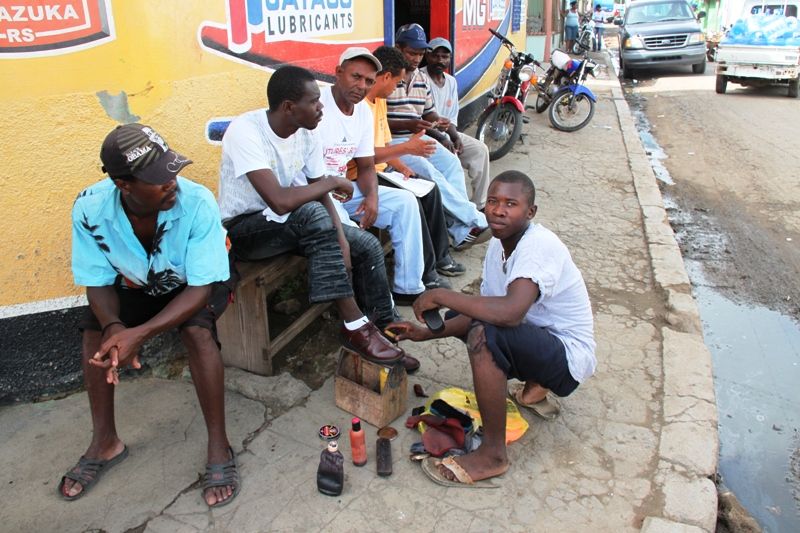 Moto-conchos, motorcycle taxi's, lined up: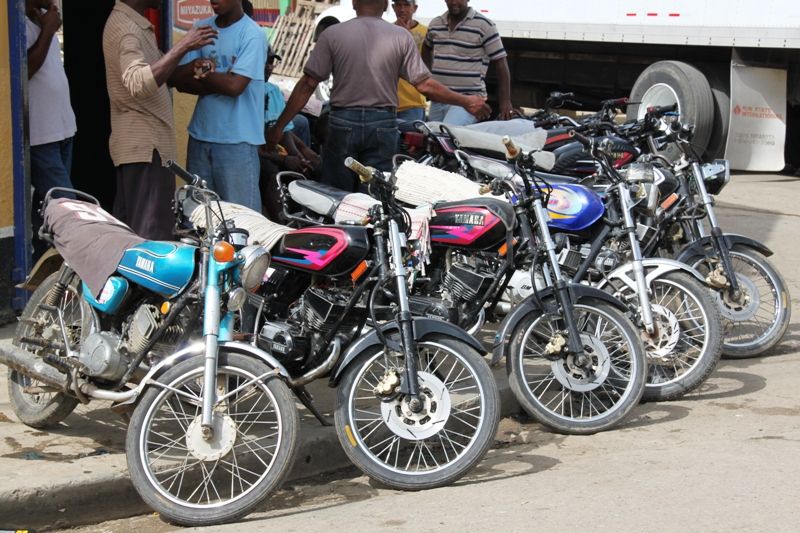 Our truck, loaded with stuff for the orphanage:
Seems things didn't go well in Customs. The three "diplomats" come down the street bummed out.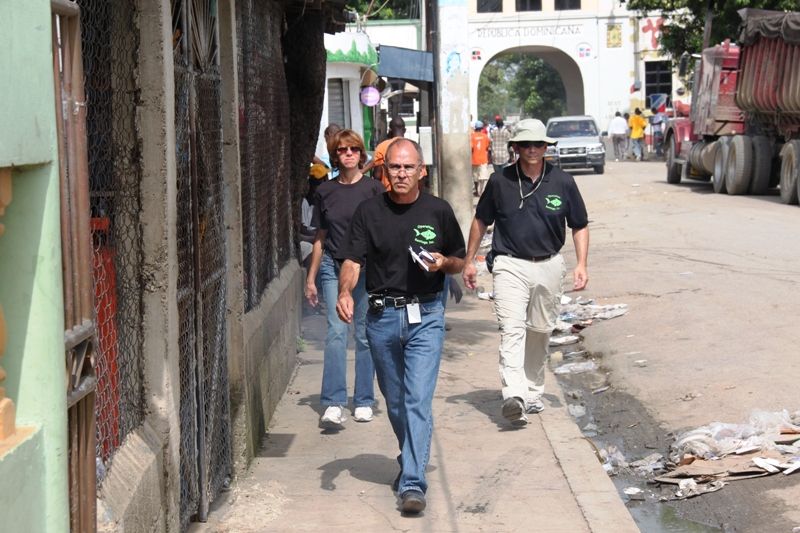 Seems Customs wants a letter outlining all the stuff on the truck…again. So George and Raphael go to the internet café down the street to print one. We can go into the Custom's office and wait…in air conditioning. Relief! And while there I see an interesting box and sneak a pic while the manager went out for a minute (no photos in their office.). It was plugged into the wall, had a big coil inside, had several plugs and a fuseable link. I dunno, you tell me: Dominican extension cord? Voltage regulator? Beats me: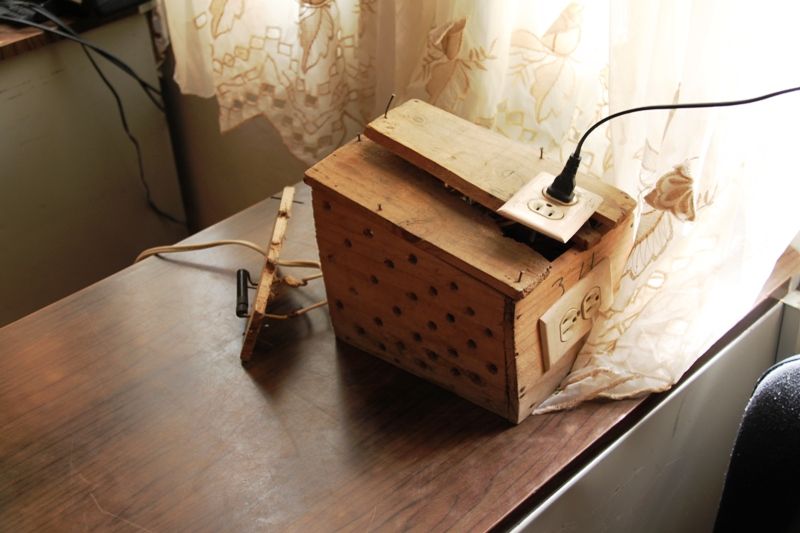 So finally we're on our way, through the border. I'm driving, Alida snaps pics from inside the car. We go through the gate into a crowd: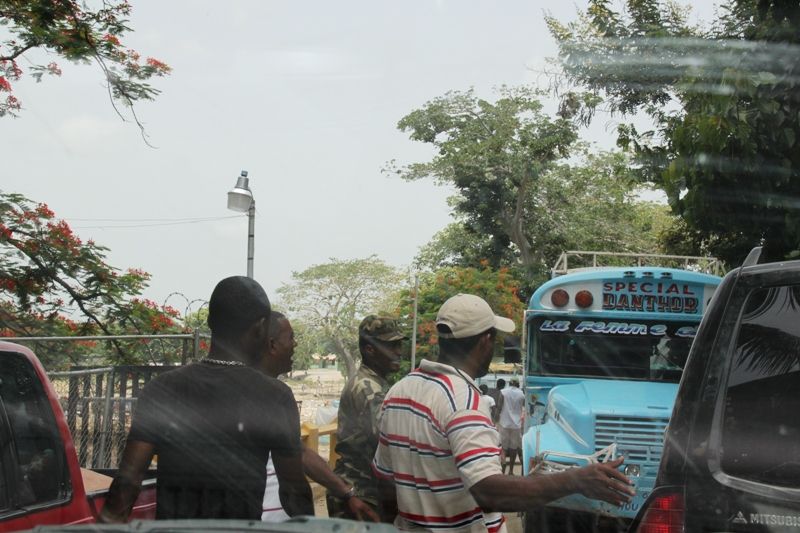 The river is the border, both banks are Haitian. From the bridge: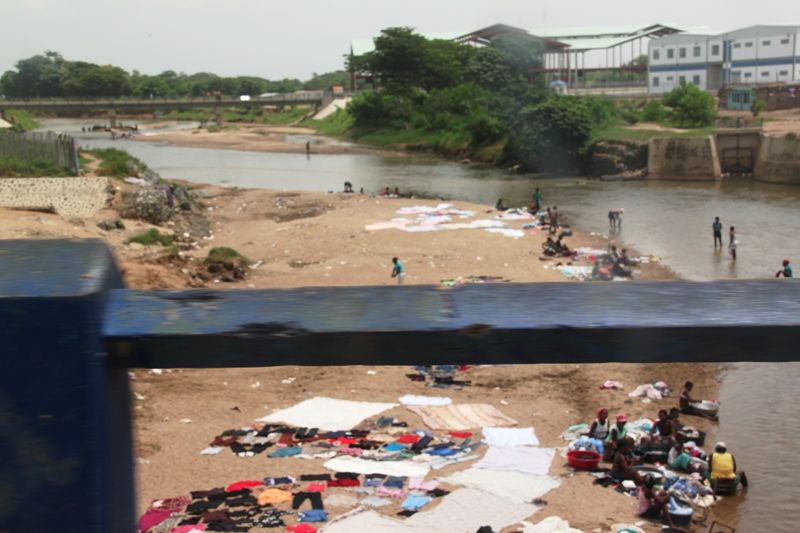 We are now in Haiti:
Unbelievable. The pictures don't give a full image of what we saw: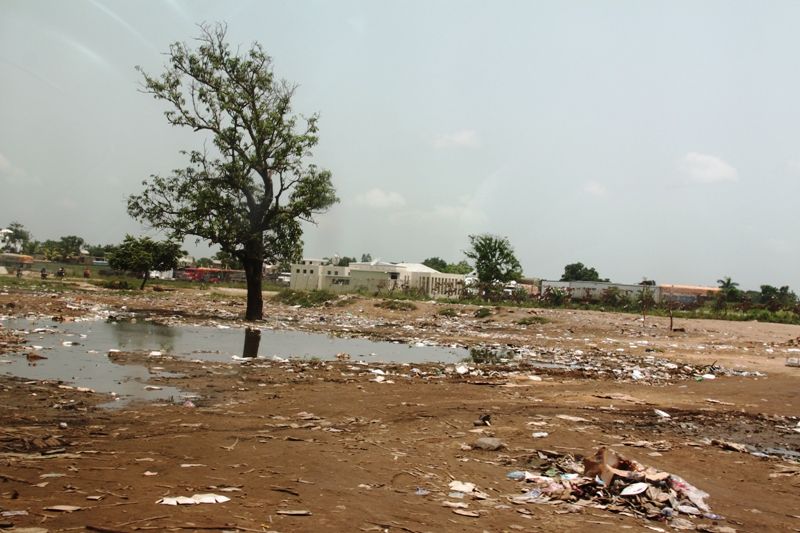 We saw several UN trucks and soldiers:
But onward we go. We pass the police station/customs department. They would hold the truck up later on:
Deeper we drive through the town of Ouanaminthe. The orphanage is outside town. Some street scenes: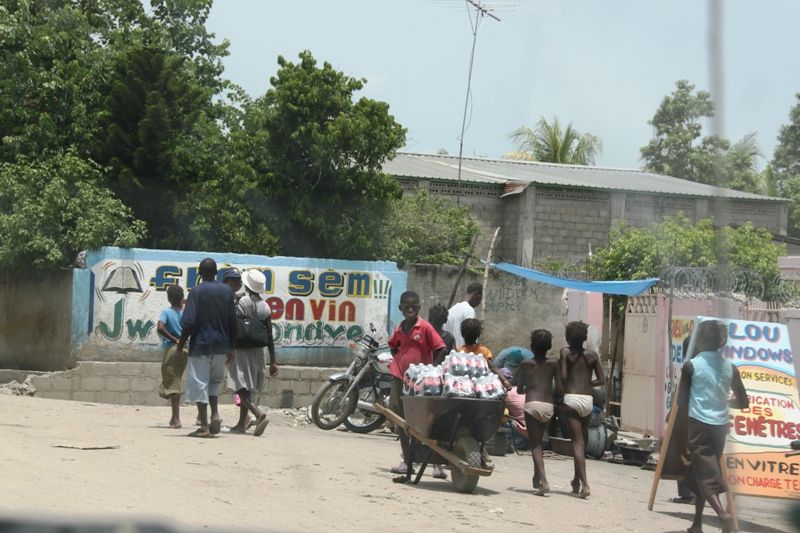 Wherever there was a stream or puddle, folks were doing their laundry:
Finally, we arrive at the orphanage:
Alida is greeted at the door with smiles:
The front porch of the home:
The orphanage has 50 kids. These are throwaway kids. And a kid isn't truly a throwaway until they are a Haitian throwaway.
I've got to say at this point I'm humbled. What we saw was hard to fully comprehend, and the orphanage added to the sensory overload.
I went in and scouted around since I knew it would be a while before the others got here. George, Raphael, and Madame Troussant, the head of the orphanage, former gubmint employee and somewhat of a local celebrity went back to Customs to get the truck away from those thieves. The doc was setting up his "clinic."
I found the well that had recently been built (15' to water, then 10' of water, not bad) along with the pump to the tinaco and filtration system. Pretty sweet: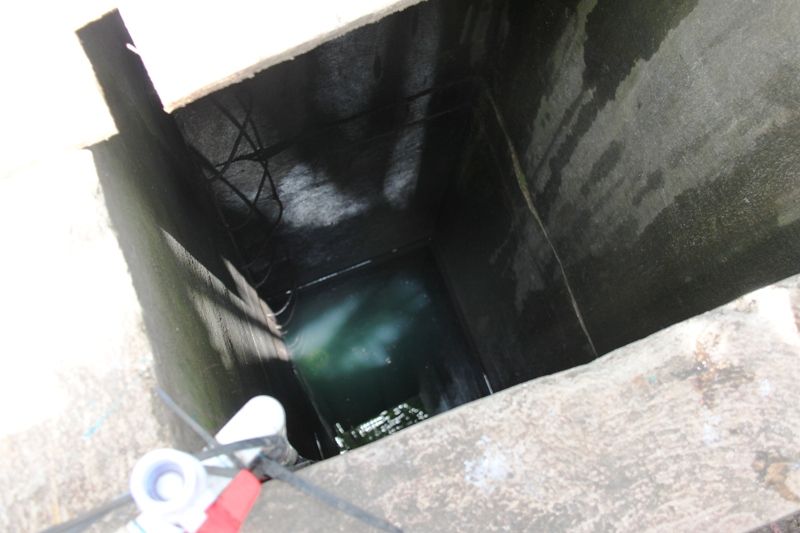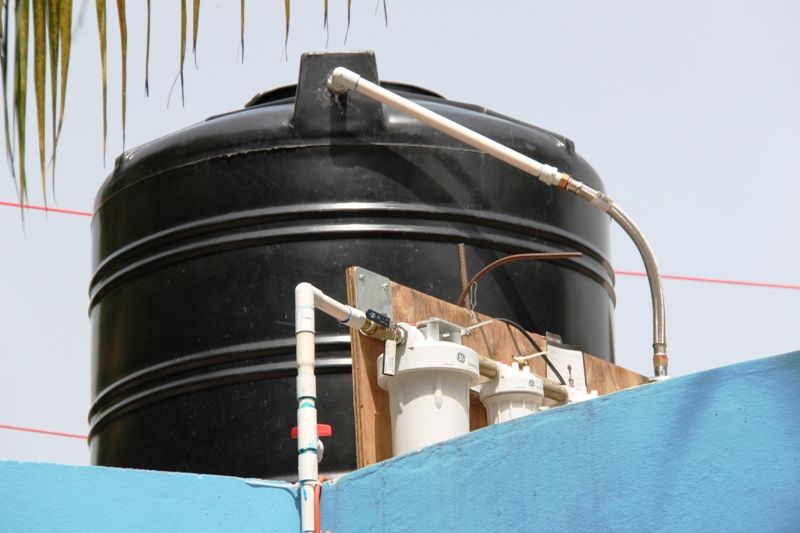 Only one problem: they get power maybe once a week for maybe 2 hours…and don't know when. Otherwise they use those buckets on a rope for their water. Part of today's mission was to install a pump.
The clinic was now open. The patients wait patiently in the waiting room: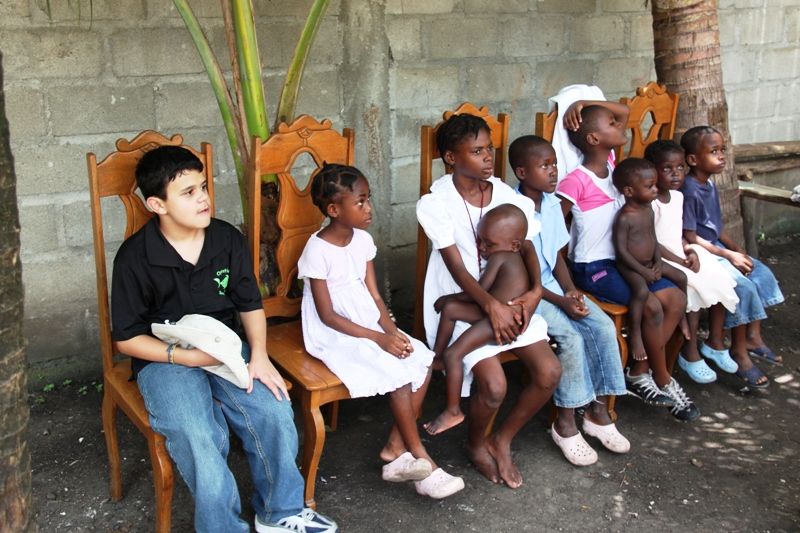 Some kids had never seen a doctor before: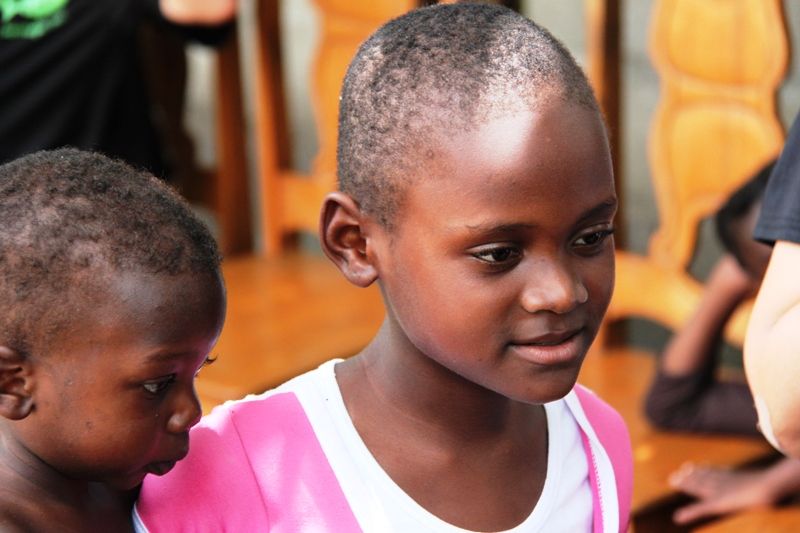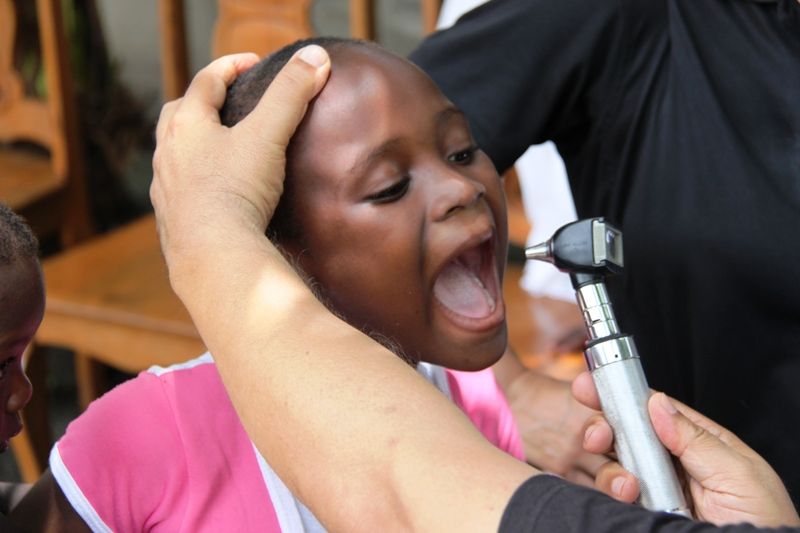 Seems EVERY kid in the place has intestinal parasites. One was epileptic, two other had water on the brain, all were malnourished, some anemic. These kids are 3-4 years older than they look. I was shocked. The doc brought a ton of medication. Every kid got parasite meds, vitamins, antibiotics, and iron pills. Madame will be in charge of making sure they take them.
But how effective could they be with the sanitary conditions? This is THE bathroom: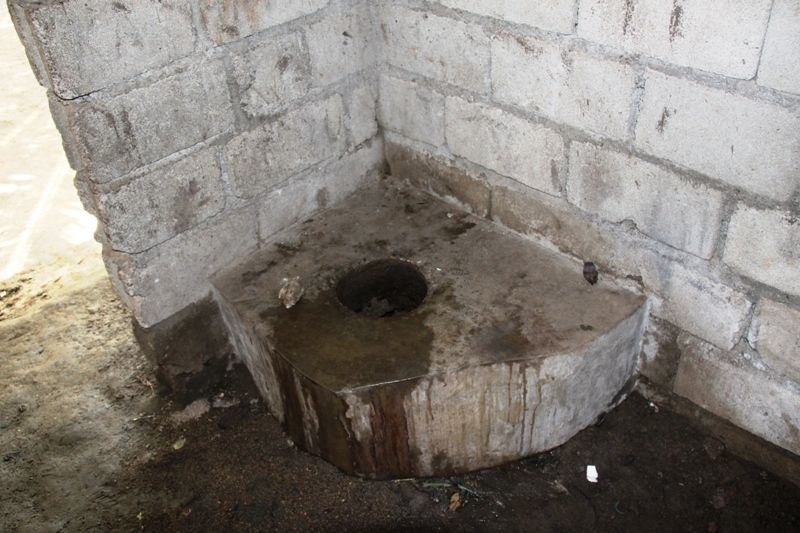 BTW-I had to use that…once. That's not water on the dirt floor or concrete seat. You can imagine the stench. The distance from the hole to whatever is semi-solid below is maybe a foot. Do the math.
So kids poop and pee pretty much wherever they want on the grounds, or: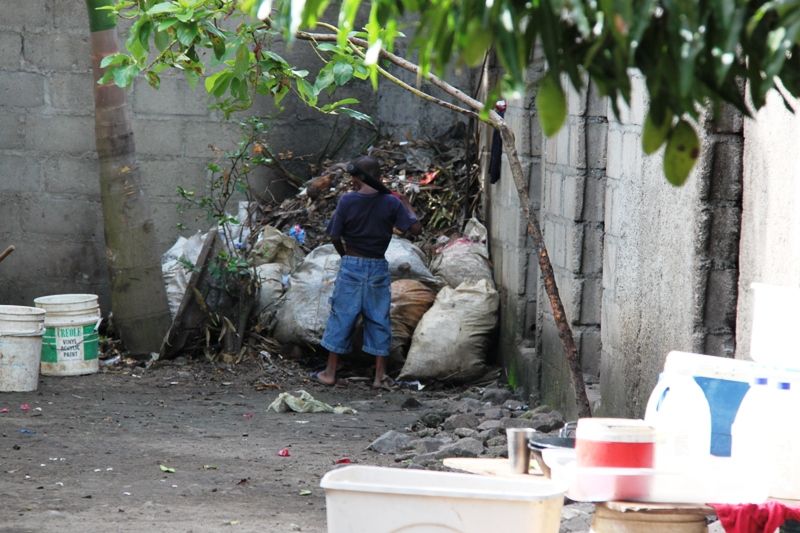 But now it's lunchtime, and the young kids get fed first, helped by the older kids: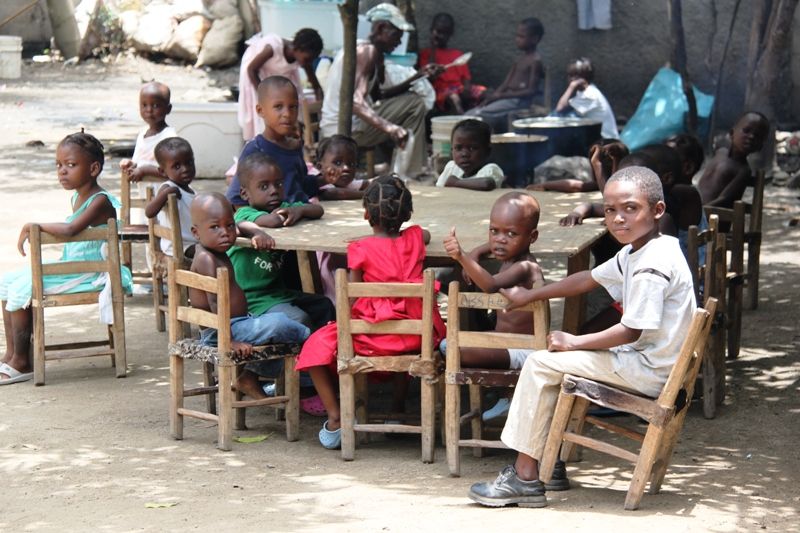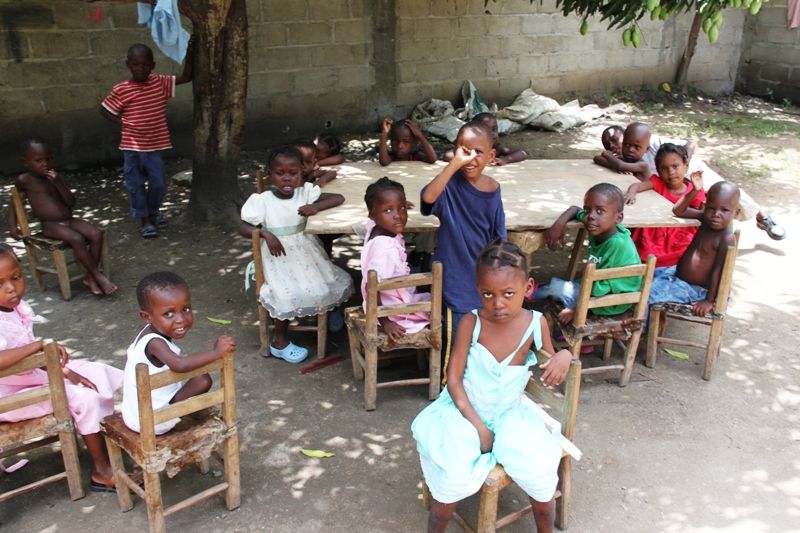 The chef prepares today's meal, the same meal as yesterday and the same meal as tomorrow. They eat just once a day: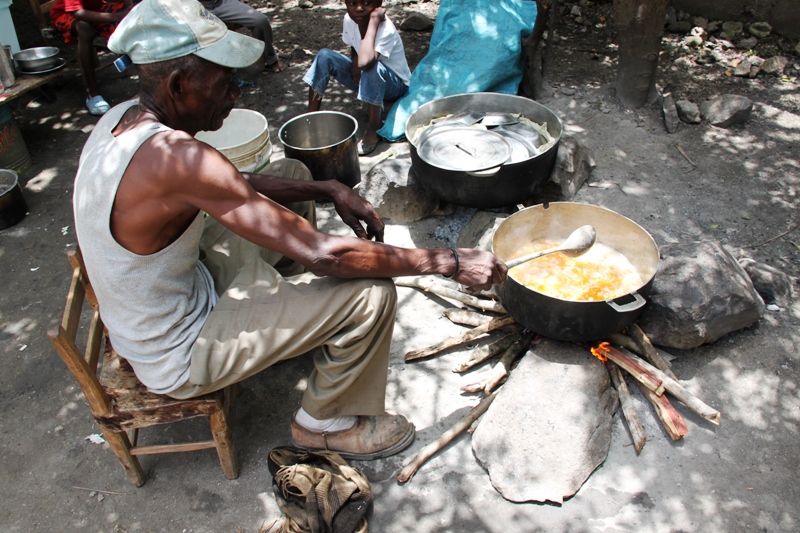 The meal: rice, coarse pasta, a few onions…and a big blob of mayonnaise 3 times a week. They eat little if any protein and the mayo gives them ~some~ fat. It's no wonder these kids…and the adults…are malnourished. I was quietly pissed the Dominican customs was holding up hundreds of pounds of canned meat destined for these kids.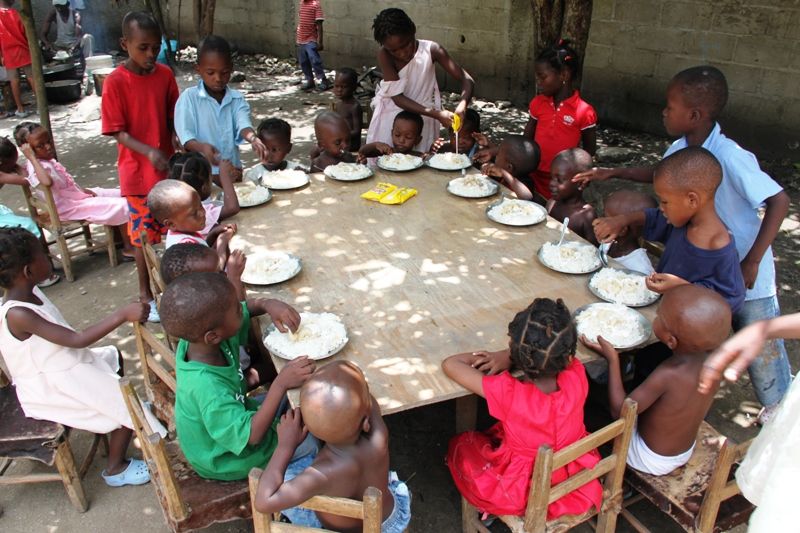 But they seemed to enjoy it.
I wandered around some more and found what I was later told were the "classrooms" (on the left):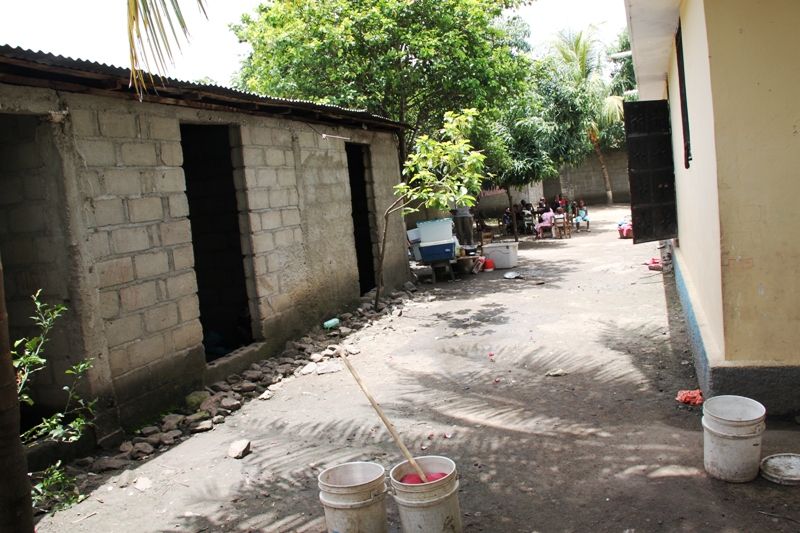 I heard some muffled sounds in one and investigated: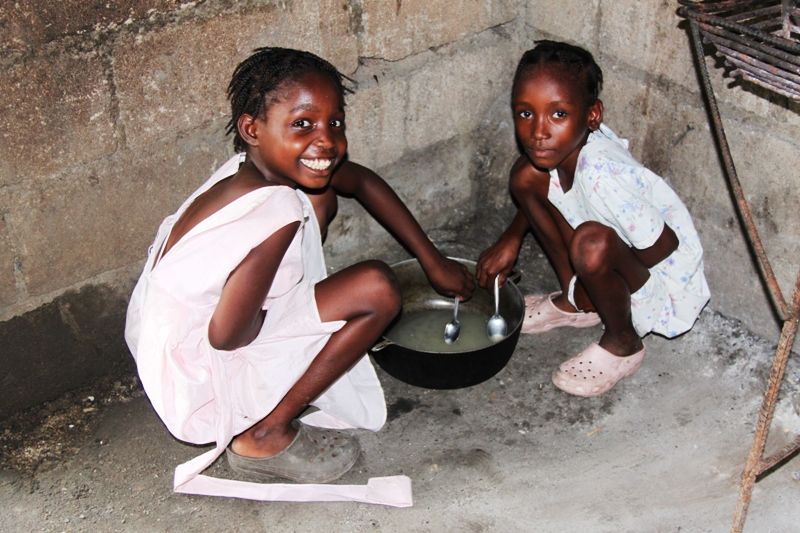 I have no idea what they were eating in that bowl. It looked like dishwater.
Chef was working hard and seemed like a nice man:
I liked his boots: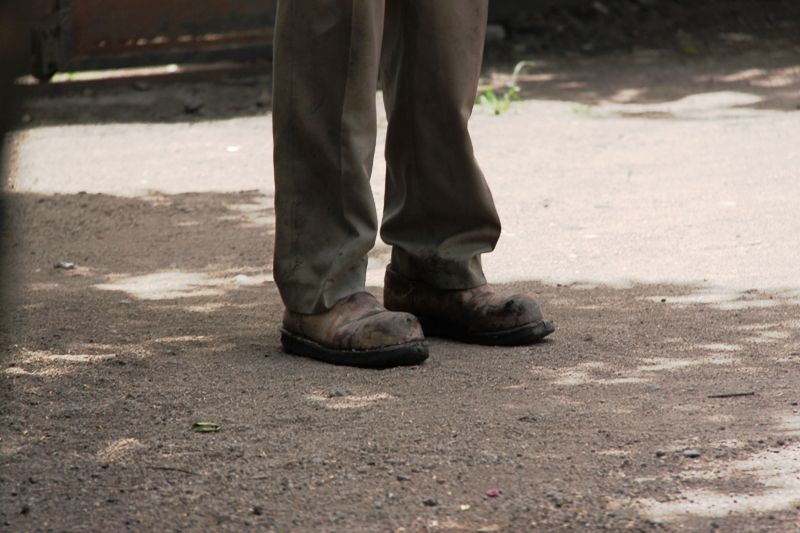 I wandered around the innards of the house. The kitchen:
No refrigeration.
Bedrooms:
Kids napping: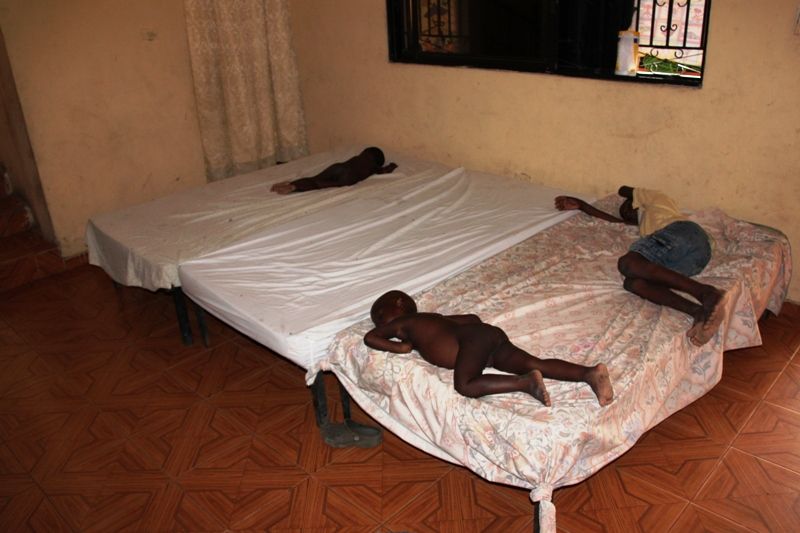 Finally, I heard some welcome noise on the other side of the wall. The truck was back: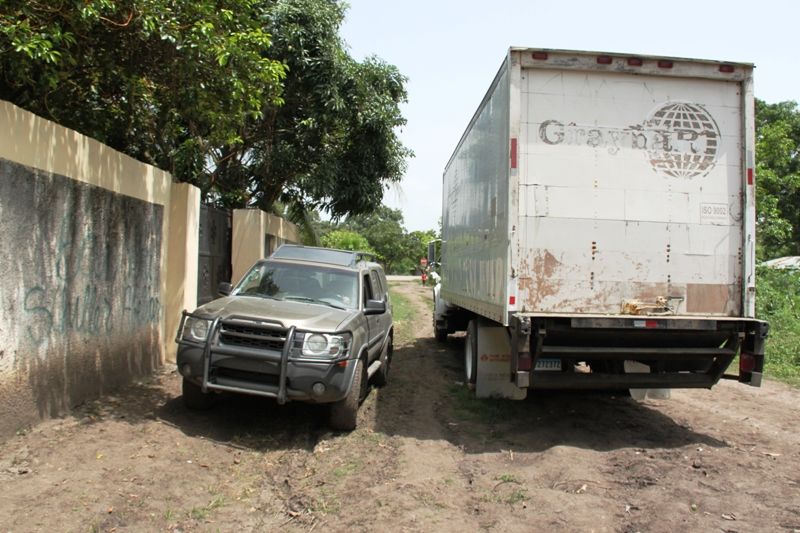 Backed it into the compound and we begin to unload. Beds: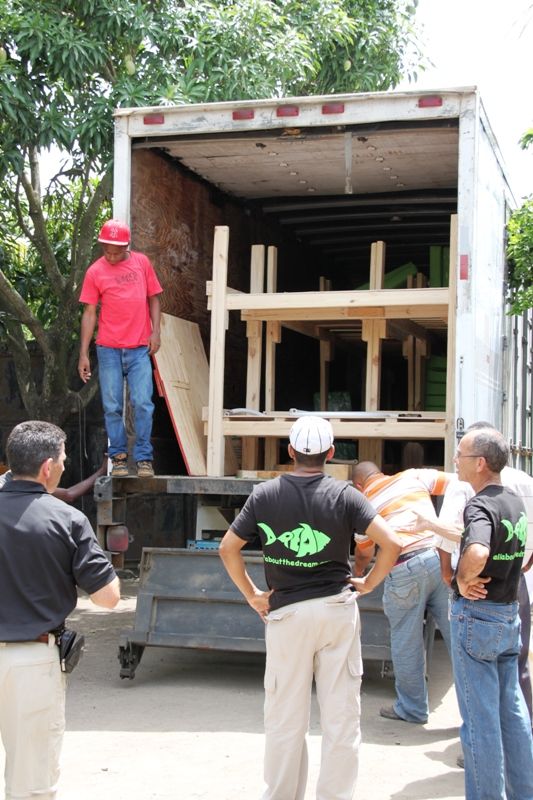 While Madame had the kids sit and sing. Creole is a beautiful language in song: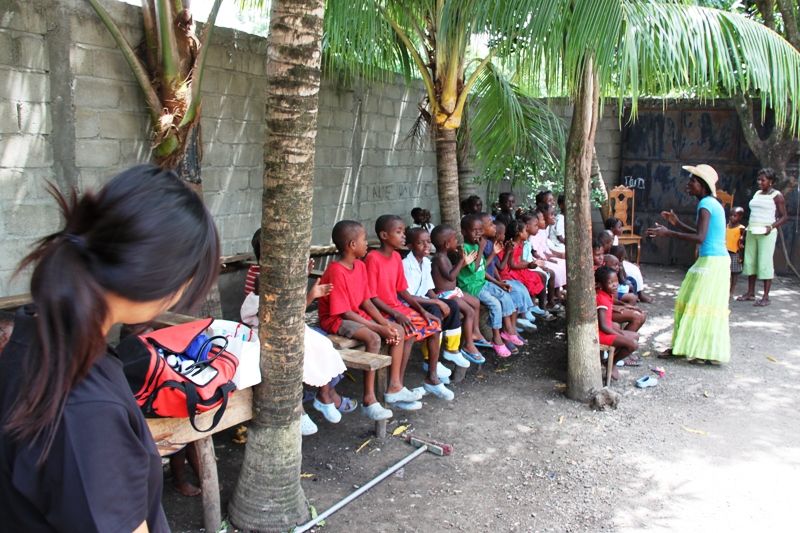 They also brought a swingset. I took videos with the camera of the process, so not many pictures: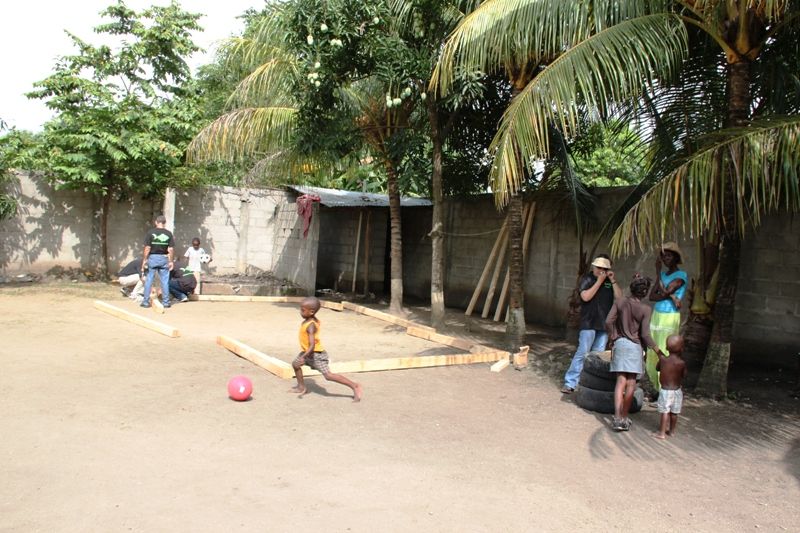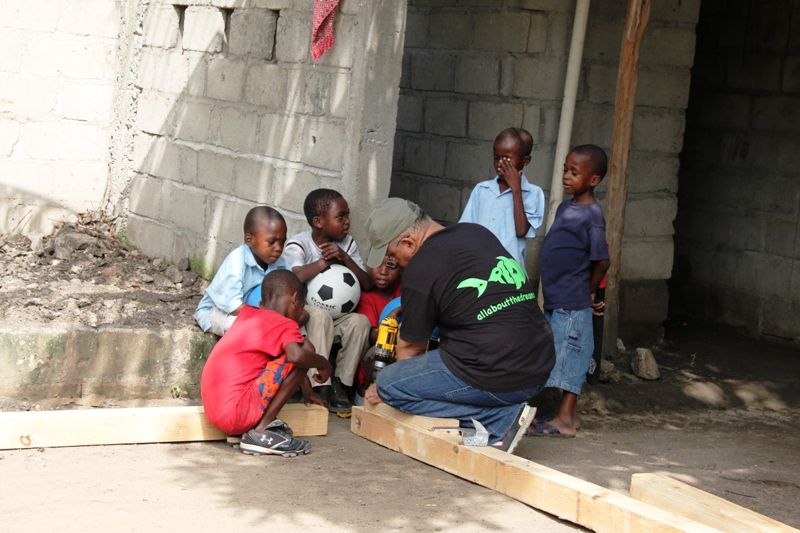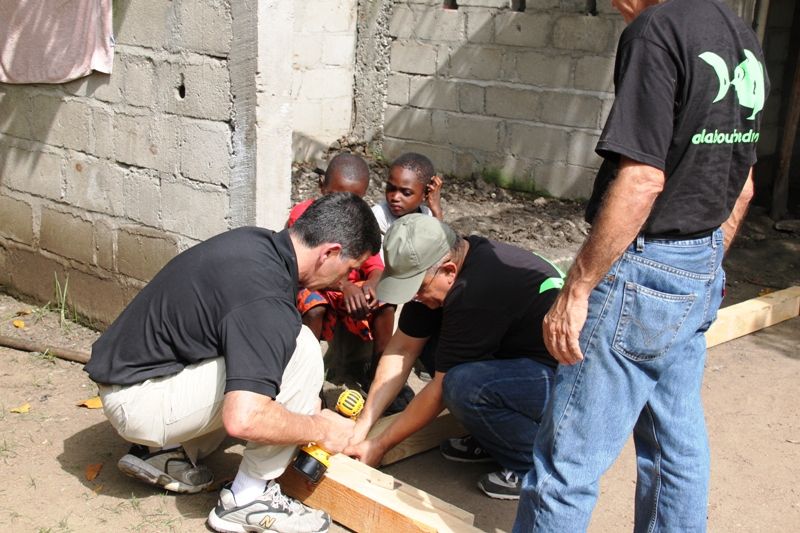 And toys, mainly balls. This girl had never seen bubbles before and thought they were magic!:
Nobody wanted to tell these kids this stuff wasn't personal toys, but part of the swingset:
We went to work on the pump (sorry, no pics because Alida was taking video; I've not uploaded them to youtube yet, but will.) George didn't really know much about it, but I did, being an old, experienced sailor. It was a very elegant engineering solution: a heavy duty marine bilge hand pump, 6gal a minute. George installed it, dropped the hose/filter into the well and the kids stood around singing while he pumped it for the first time. And no sooner did the water come jetting out did the screws holding it together strip out. George was mildly upset and perplexed as to what to do because the screws…way to short, IMO, has stripped from the heavy duty plastic housing. So we drilled the holes out and tried nyties. Nope. No go. Water squirted out from the sides; the pieces weren't together close enough.
So I asked Madame if she'd and her assistant would take me to the closest hardware store, and off we went. We found bolts, washers and nuts here (I'm in the orange shirt):
And back we went. I drilled the holes out more and through-bolted the pump halves. Perfect. We had water! Lots of water!
We give the kids the plaque to hang at the orphanage: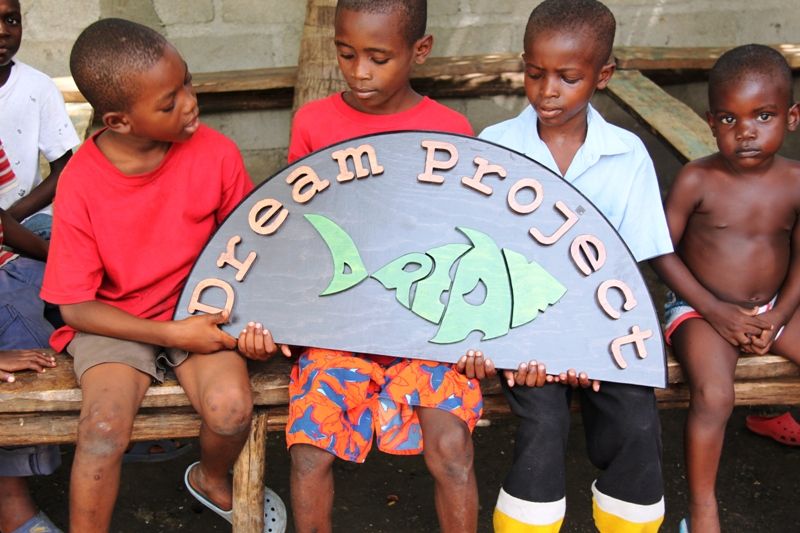 It's now 4:15, and we're several hours behind schedule because of Customs holding the truck. The border closes at 5pm. NOTHING goes through then, period. We did NOT want to spend the night. No way. So we bid a fond farewell, loaded up and headed to the border. We approach it:
There were a few minor paperwork hassles, but these guys watched: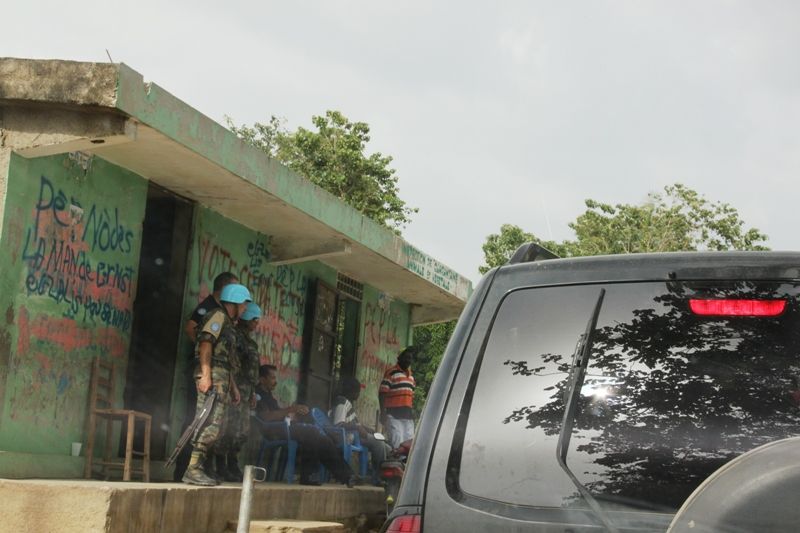 They were Chilean, Uraguayan and Canadian.
Finally, back in the DR!
We didn't get back to Santiago until 10pm, dead tired, too tired to drive back to Jarabacoa. So we checked into a hotel, grabbed some dinner in the restaurant and crashed. Hard. As emotionally tired as physically tired.
And despite the extreme poverty we experienced, I still have some images in my mind I'll never forget, images that will make me go back when my help is needed: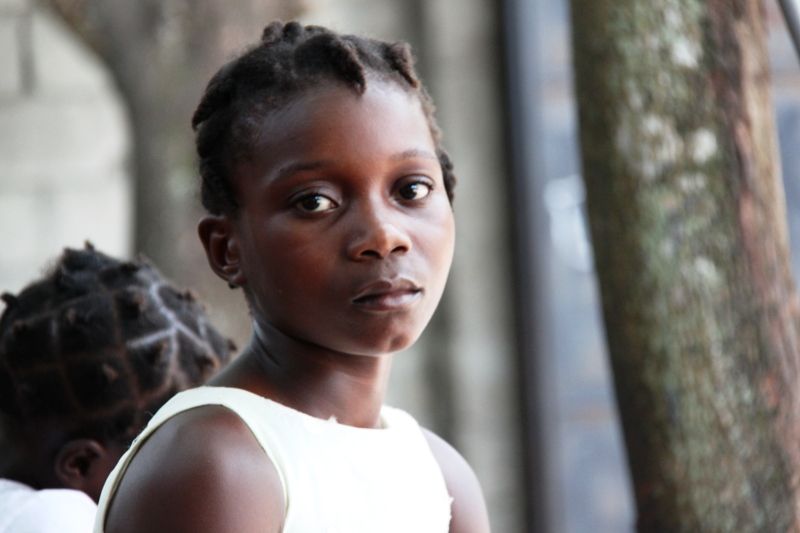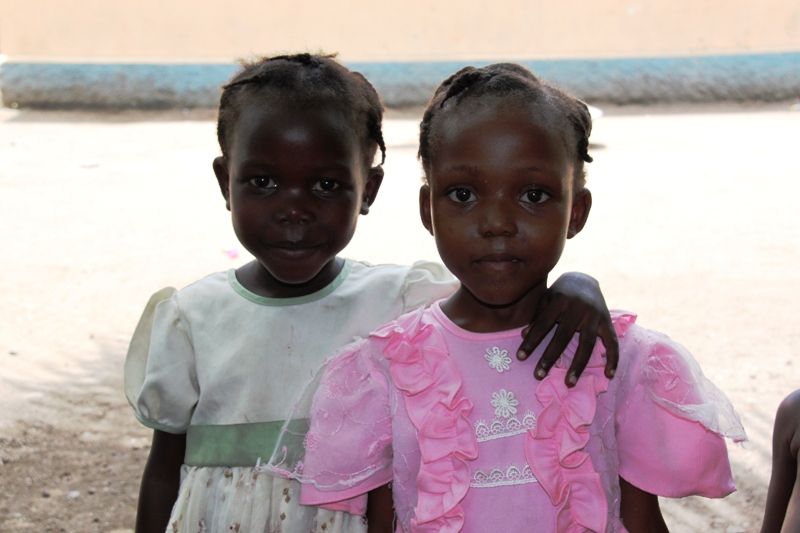 My intent here is not to solicit donations. But if you want to give some money or food to some folks who will use 100% of it for children in need truly deserving, drop me a PM, I'll hook you up with these wonderful folks…